[English name]: Chlorogenic acid
[Botanical Origin]: Eucommia ulmoides Oliv.; Lonicera dasytyla Rehd, Coffea Arabica L.
[Chlorogenic acid]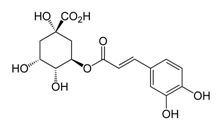 [Specification]: 98% HPLC
[Appearance]: White crystal powder
[Molecular Formula]: C16H18O9
[Molecular weight]:354.31
[CAS.NO]: 327-97-9
[Water Solubility]: 3.44 g/L
[Application]:
1. Antimicrobial.
2. Lowers blood pressure by promoting the effects of nitric oxide (a potent vasodilator)
3. Lowers blood sugar by inhibiting the activities of α-glucosidase.
[Minimum Inhibitory Concentrations(MIC)]
| | |
| --- | --- |
| Microorganism | Chlorogenic acid (ug/ml) |
| Escherichia coli | 80 |
| Helicobacter pylori | >100 |
| Staphylococcus aureus | 40 |
| Salmonella typhimurium | 40 |
| Shigella dysenteriae | 20 |
| Stenotrophomonas maltophilia | 8-16 |
| Bacillus cereus | 64 |
| Streptococcus pneumoniae | 20 |
| Bacillus subtilis | 40 |
| Enterococcus faecalis | 64 |
| Candida albicans | 80 |
| Malassezia furfur | 40 |